Each week, we are breaking down the latest stories in love, relationships and pop culture. Use them as ice breakers on your date this weekend, or as a cautionary tale in dating. Either way, we want to hear your opinions in the comment section!
Ice, Ice Baby
It's official – the #ALSIceBucketChallenge has swept the nation, with former presidents, musicians, movie stars, their family members (not to mention your entire social network) getting in on the action. The social movement that includes posting a video where a bucket of ice is poured over your head, and "nominating" friends to take on the challenge all in the name of charity has raised over $40 million dollars for A.L.S. Association, the only national non-profit organization fighting Lou Gehrig's Disease. Though there have been critics of the movement, donations for the organization have surged since July 29th with more than 749,000 new donors contributing over 2x the amount of money ALSA received during the entire year of 2013—all within less than a month.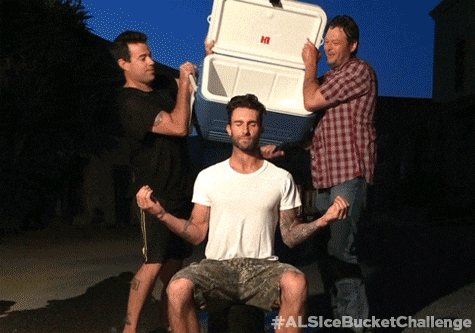 Chris Martin Has a Brush with the (J)Law
Coldplay's front man might have some new love songs to bring to the table! Chris Martin is reportedly dating Hunger Games actress Jennifer Lawrence, according to sources close to the couple. The news comes a week after Martin's ex Gwyneth Paltrow was seen sharing a romantic dinner with a new beau Brad Falchuk. Coldplay concert-goers in New York City even caught a glimpse inside Chris and Jen's new budding romance when Martin made an onstage Hunger Games reference before blowing a kiss in the Oscar-winner's direction.
Nick Cannon Has Fled Mariah's Coop
As one romance begins, another one ends. Mariah Carey and husband Nick Cannon have reportedly separated, and have been living apart for months amidst rumors of their unstable marriage. Sources told Page Sixthat the couple was "headed for a split" after Mariah hired security to keep him away from other women, after she had been suspect of him cheating. The two have been married for six years and share twins Moroccan and Monroe, 3.
Nicki Minaj Breaks Records with Her… Ehm… 'Anaconda'
Nicki Minaj is never one for playing it safe – especially when it comes to music videos. Her latest, titled "Anaconda," has broken a new record on video channel Vevo with a whopping 19.6 million views within 24 hours, smashing previous record holder Miley Cyrus' Wrecking Ball 19.3 million views. The NSFW video features Minaj scantily-clad in a jungle scene, with a cameo of rapper Drake (who recently dished about his 'crush' on friend Nicki).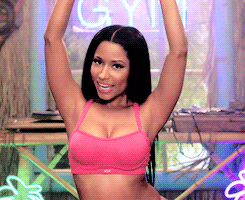 What are your favorite relationship stories from the week? Let us know in the comments below!