Each week, we are breaking down the latest stories in love, relationships and pop culture. Use them as ice breakers on your date this weekend, or as a cautionary tale in dating. Either way, we want to hear your opinions in the comment section!
Robin Williams – World's Funniest Man Will Be Missed
It'd be impossible to cover this week's news without mentioning the death of comedian and actor extraordinaire Robin Williams this past Monday. The news of the late great Williams' suicide has brought an overwhelming outpour of condolences, anecdotes, memories and many lingering questions regarding the actor's previous dealings with alcoholism, depression, and more recent news of early onset Parkinson's disease. He is survived by his wife and three children, along with his endless contributions to theater, film, television and society.
Oh Baby! TODAY's Savannah Guthrie Gives Birth to Baby Vale
NBC TODAY show anchor Savannah Guthrie and husband Michael Feldman gave birth to baby Vale Guthrie Feldman on Wednesday, August 13th. The baby girl's unique name was described by TODAY show co-anchor Matt Lauer as "[…] an old English word that means 'valley by a stream.' They named her that because she was so calm and serene until—10 o'clock last night!" Guthrie's pregnancy announcement to Feldman back in March, and was praised for her public chronicling of her experience throughout her pregnancy.
Consciously Coupling with a Co-Creator?
Is GOOP guru Gwyneth Paltrow dating Glee co-creator Brad Falchuk? The actress, blogger and mom of two has appeared on the FOX series in a reoccurring role as 'Holly Holliday' five times since 2010, and has reportedly developed a romance with the show's executive producer. The new pairing comes just four months after the announcement of Paltrow and ex-husband Chris Martin's "conscious uncoupling" (read: divorce filing) after 10 years of marriage.
Celine's Heart Will Go On – Though Her Vegas Show Might Not
Celine Dion announced in a press release Wednesday that she is "postponing her career indefinitely" as she focuses on her husband's health as he battles throat cancer. Dion's husband of twenty years underwent surgery last year to remove a tumor from his throat, and Celine herself has recently had health scares, cancelling shows due to inflammation of her throat muscles. Dion has had a residency at Caesar's Palace in Las Vegas for the past ten years, and recently extended her contract until 2019.
Paparazzi Prepped Ben For New Role as Husband in Upcoming Gone Girl  
Ben Affleck dished this week to Entertainment Weekly about his preparations to play the presumed-guilty Nick Dunne, husband to missing (and pregnant) Amy, in the highly-anticipated cinematic adoption of bestseller Gone Girl. "It wasn't something I had to do a lot of research for," Affleck notes, "I knew what it was like to have the tabloid world paying attention to me and ascribing negative motivations to whatever I might be engaging in." Affleck cites his former engagement to Jennifer Lopez and the "Bennifer" craze that followed as fuel for his performance.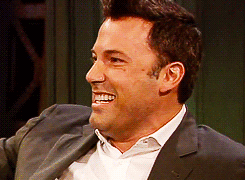 What are your favorite relationship stories from the week? Let us know in the comments below!