Match.com's summer intern, Silvia, will be blogging weekly about her experiences working at Match and revealing the behind the scenes of the world's largest dating site.
What does a teen vampire, America's most celebrated domestic diva and a tough fashion critic all have in common?
They are all former Match.com members!
True Blood star Deborah Ann Woll, Martha Stewart and Fashion Police host Joan Rivers are all former Match.com member and are proponents of online dating.
Source: giphy.com
Deborah Ann met her long-time boyfriend E.J. Scott on Match.com in 2007 and have been in love ever since!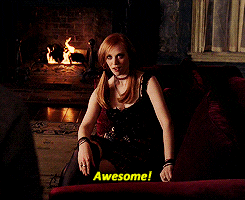 Source: giphy.com
But she's not alone: actress Essence Atkins and chef Carla Hall have both had success on Match.com as well!
Source: giphy.com
The list doesn't end there, though– did you know Playboy Bunny, TV host, mom and actress Jenny McCarthy also went on Match.com, but with her sister's photo and a pseudonym!?
Source: giphy.com
Talk show host Ricki Lake also met her husband inadvertently through Match.com in 2009. The couple has been happily married since 2012.
If only I could have stumbled across hunk Gossip Girl Chace Crawford when he was single! He may be taken now, but he's also a fan of online dating. He put all speculation behind and told UK's Now Magazine that he has a "bunch of different accounts" on online dating sites that no one knows about!
Source: giphy.com
Now engaged actress Jennifer Aniston has also been rumored to have online-dated and she's not alone! Charlie Sheen, Ashton Kutcher, Halle Berry, and Matthew Perry have all been rumored to have used an online dating service.
Source: giphy.com
Which celebrity would you love to see on Match.com? Comment below!
-Silvia